Die Walchhofer's: Holiday in Altenmarkt-Zauchensee, Ski amadé
We are
fun accelerator...
What do our Zauchenseehof and the Hotel Zauchensee Zentral have in common? What connects our farm on the Kuchelberg with the apartments and our ski school. And why is the Almbar not the same as the Schirmbar? All of our 8 establishments in Altenmarkt-Zauchensee in Salzburger Land have something in common. They are special places that stand for one thing: A world full of feelings - we lovingly call it full of feeling. And really soulful and world champion good. With an awfully familiar family. And surprisingly different.
Awfully familiar with real legends.
Zauchenseehof
4 star family hotel
Family Business.
With fun, sports
and play.
Zauchensee Central
4 star hotel
Very central.
Your world champion home.
Top Alpine Walchhofer
Ski school
Skiing.
Wow! and
world champion good.
Almbar
Bar and bowling alley
Snow Hole
À la Carte Restaurant
1
Hotel Zauchenseehof
2
Hotel Zauchensee Zentral
3
Hotel Sportwelt
4
Tauernkarbahn
5
Zauchi's Kinderland
6
Schwarzwandbahn
7
Gamskogelbahn I
8
Unterbergbahn I
9
Rosskopfbahn
10
Übungslift See
11
Übungswiese der Skischule
12
Sammelplatz der Skischule
13
Garnhofhütte
14
Felserhütte
15
Topsport Klieber
16
Bushaltestelle
17
Intersport Schneider
18
Schirmbar
19
Schneelöchl
20
Almbar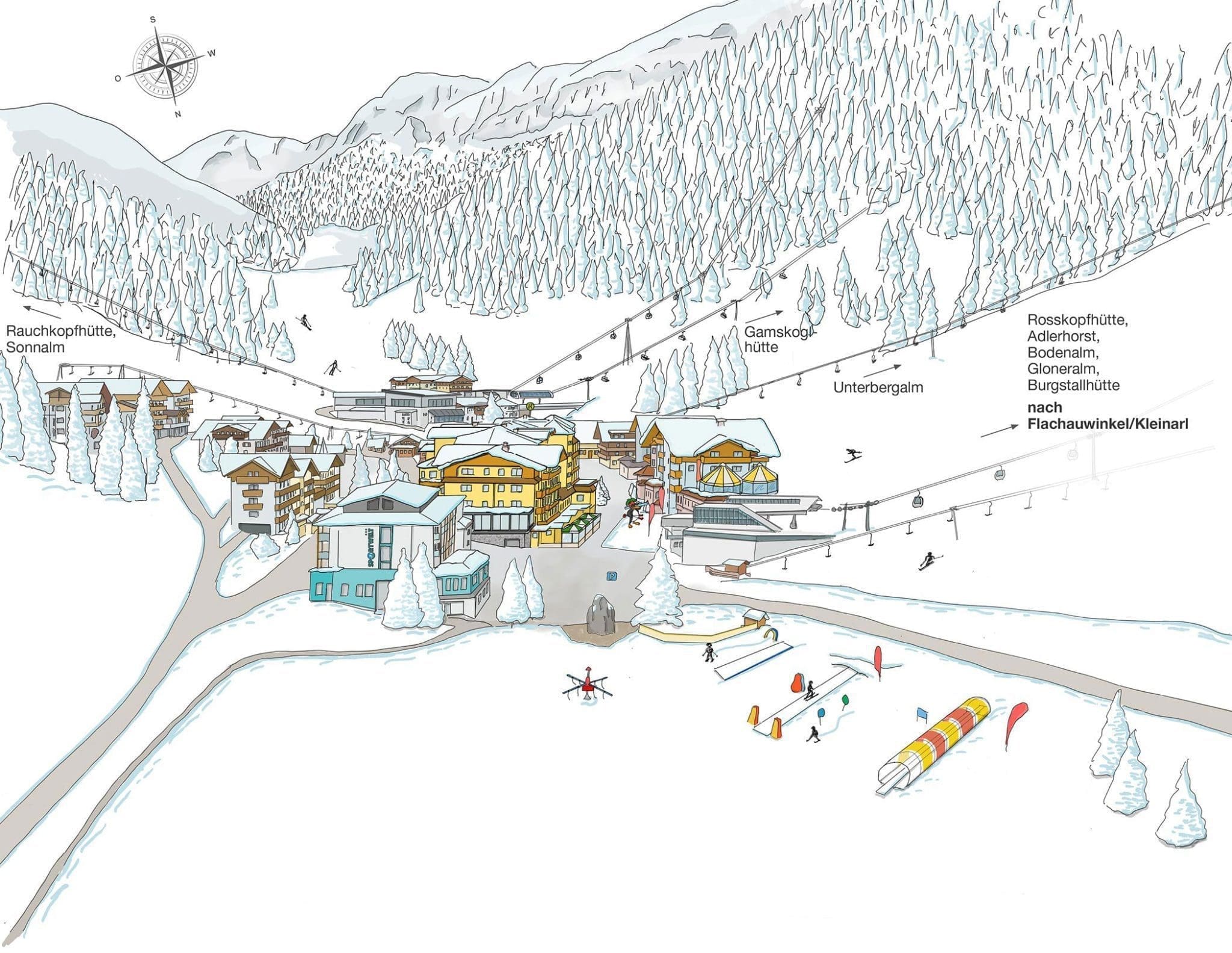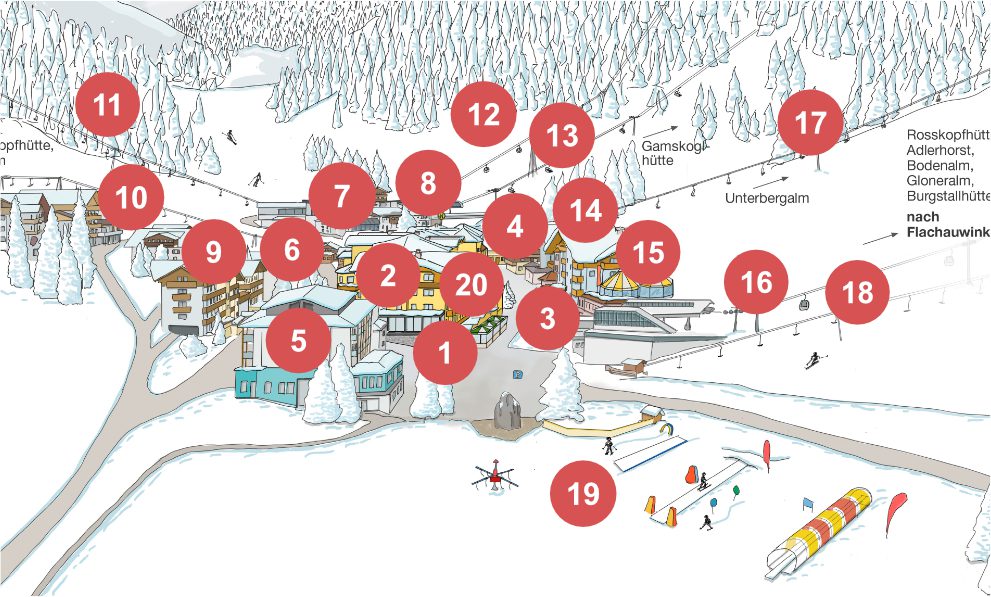 1 snow hole
2 Hotel Zauchenseehof
3 Ski school meeting point
4 Intersport Schneider
5 Hotel Sportwelt
6 Garnhof hut
7 Felser hut
8 Bus stop
9 Topsport Klieber
10 Zauchi's Kinderland
11 Tauernkarbahn
12 Black wall railway
13 Gamskogelbahn 1
14 Hotel Central
15 Umbrella bar
16 Rosskopf cable car
17 Unterbergbahn 1
18 Practice lift lake
19 Practice area of the ski school
20 Almbar
Winter Wonderland & Summer Wonderland
About 70 years ago, it was said: Zauchensee lies at the end of the valley - at the "A**** of the world". Now most people say: we are at the end of the beginning - for the most wonderful holiday moments at 1,350 metres. Our hotels in Zauchensee are located right in the centre. In the hot spot of nature and "live there" in the Ski amadé ski area. We offer a Wonderland for your summer, winter and ski holidays. And it's right outside the front door. Strap on your skis and set off in the Zauchensee ski area. Or put on your hiking boots and discover the mountain world. Ski-in. Ski-out. Bike-in. Bike-out. And much more - like a world champion. By car we are quickly accessible via the motorway. And once you arrive, you can save the car anyway. So is air conditioning - because that's what we have trees and fresh air for.
Why die Walchhofer's? - That's why.
full of feeling
Checking in @home.
With friends and a terrible
family.
World championly!
A guest of world champions.
Simply legendary and
world champion vacation.
Magic Mountains
Experience Magic with Mountains.
On the mountain, in the lake and
on the highest peaks.
Powderproof
Piste, powder and pow wow.
Winter Wonderland by
December to May.
1000 stories
1 family. A thousand stories.
And success stories,
just waiting for you.
For us, every hundredth counts,
where you have fun.